OFF-STAGE with DJ WILBE: Performing in a time of a Pandemic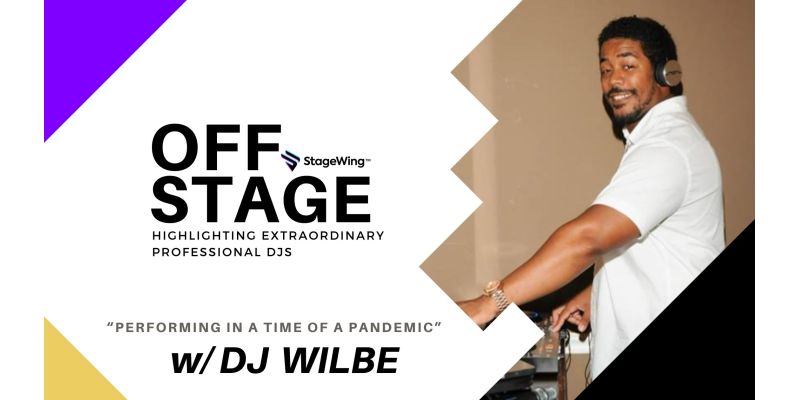 What's up Wilbe! Please tell our readers a little bit about yourself and what inspired you to become a DJ.
I'm a military baby, who was born in Goldsboro, North Carolina. I was raised all over this country, but will tell anybody I was raised in Atlanta! Since birth I've had a love for all types of music. My family members used to sing with Harry Belafonte and many more well renowned artists. My mother is a music director/teacher and she exposed me to all genres growing up in the military. For me, being a DJ is a beautiful struggle: the preparation, the nervousness, trying to make sure nothing goes wrong and making sure that the party goers are enjoying themselves. The beautiful part is seeing the work come to life, people giving me their energy on the dancefloor, and having the feeling that I killed that mix!
I began djing in 2005 when I met my buddy DJ Sed at Agnes Scott College, and we called ourselves Blended Vibe DJs. We would practice and perform together on one DJ controller and rent speakers from local home furnishing rental companies. Two later, we were invited to DJ for Family Night at Skatetowne Skating Rink in College Park, GA. Skatetowne opened many other doors for us. We (BlendedVibe) added new members to the DJ team and I began performing at weddings, meetings, parties, ranging from pool parties to block parties, and even the High Museum. I hope to continue grow as a DJ and create more memories with others through music.
Besides spinning a memorable set, do you have any other interests and/or passions?
Many people don't know but I am also an Education Tech Specialist in Atlanta Public Schools and I have worked in Atlanta Public Schools since 2006, pursuing my passion for supporting teachers and students.
Nice! So we know the pandemic has hit the live event industry majorly, what have you learned as a DJ during this pandemic?
I've learned that when one door closes another door down the hallway will open! I've learned to be more uncomfortable and try other things. I've learned that for me being a DJ is not always about the money. The feeling music has given me during this pandemic has been priceless.
Have you performed at any in-person events since April? How was that experience? Anything you had to plan for differently?
I performed for a Halloween party outside in the cold! The experience was scary at first, because of everything that is going on and this being my first gig in a year! I was nervous about space, but thankfully everyone was spaced out. I did use a request song app for the guest. That was the hidden gem for the night! That eliminated guests from coming to me wanting to talk to me close.
Have you performed at any virtual events since April? How was that experience? Did you have to buy any additional equipment or teach yourself new software as a result?
Well, I've gone live on social media and that was an experience! I've never done that before and knowing that people were only going to see me put more pressure on me to perform. I had to stay energetic, attentive, engaging, and still have a good set!
Do you have any advice to give our DJ and Event Planner readers?
Sell yourself, think outside the box, be a student, and find what works for you!
Follow DJ Wilbe on Facebook @WILBEE24