Wedding During COVID: Top 10 things DJs should do to prepare.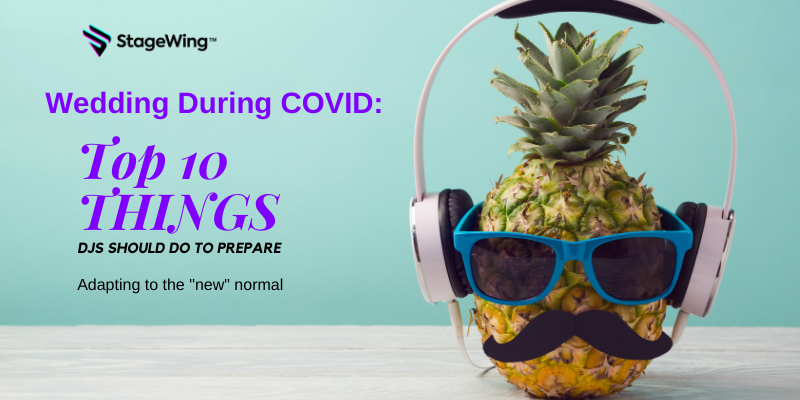 In late 2019, news of COVID-19 began to emerge and disrupted the entertainment industry across the world. Singers, songwriters, and DJs alike found themselves asking the same question - how do we continue to perform during a global pandemic?
What do you need to know about the Coronavirus outbreak when it comes to performing and booking weddings as a DJ? More specifically, how can you keep you and the guests safe and comfortable without sacrificing a good dance party?
It's important to take the proper precautions over concerns of COVID-19. Protect yourself and the wedding guests with these

10 things you should do to prepare for weddings gigs during a pandemic

:
1. Ask the wedding planner or venue for a

roped off section in

the room. Make sure that you are completely blocked on the sides and behind you for social distancing as well.
2. Bring a

full standing facade

and place it in front of your DJ table to create space between yourself and others.
3. Discuss placing a

microphone stand

in a designated area viewable to the couple and guests to reduce the amount of microphone touching and handling during toasts, blessings and guest announcements. You can buy disposable microphone covers or disinfectant spray to keep the mic screen clean.
4. Ensure to have an

updated copy of the

run of the show

ahead of the wedding day and share these details with any crew members with you including your host, and/or your StageWing Tech.
5. Prior to the wedding, ask the wedding planner to communicate updates and on-site changes via

group text

.
6. To respect social distancing, establish with your couple and wedding planner that

no requests

will be taken ahead of time OR consider

using an app

that allows guests to request songs during the reception. If you decide to use a song request app, make sure you print a sign or cards with instructions on how to request songs.
7. Create an

emergency sanitizer pack

(extra mask, gloves, hand sanitizer, alcohol wipes, disinfectant and vocalist microphone disinfectant spray) for you and your crew.
8. Use

gaff tape

to secure cables hanging from the backs of speakers or out in the open on the ground.
9. Ensure that you build in time to eat away from guests when food is served or bring your own

food-storage container

to keep your food covered until you are able to eat.
10. Consider

updating your booking agreement/contract

to add in clauses that protect you and your business if the venue or guests fail to comply with social distancing guidelines and

WHO best practices

.